The Benefits of Installing Artificial Grass in Your Office
Taking advantage of the growing popularity of artificial grass, many people are turning to artificial grass to revamp their lawns.
At UdineGrass we are involved in many different artificial turf applications such as schools, playgrounds, public spaces, roof gardens and sports fields.
Recently, however, we've seen more and more businesses, large and small, looking to install artificial turf in their offices.
Many people may be surprised to hear that artificial grass can be installed inside.
Of course, you could be forgiven for that, since people don't naturally associate grass with indoor environments.
However, installing fake grass in an office is very simple and cost-effective, as little ground preparation is required in most cases.
There are many benefits to installing artificial turf in an office, and in our latest article we explore some of these benefits and look at some of the different ways it can be used in an office setting.
First, let's look at the benefits.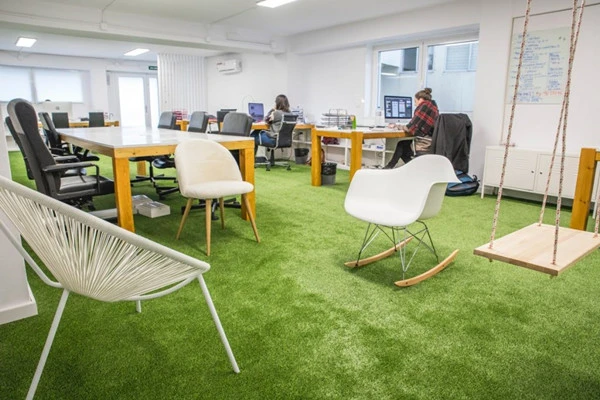 6 Reasons to Install Artificial Grass in Your Office
1. It Makes a Great First Impression
Most offices receive frequent visits from current and potential clients.
Of course, first impressions are everything, and it's important to ensure your company leaves a positive and lasting impression on anyone who visits your office or venue.
Having artificial turf in your office is sure to make a great first impression and is sure to be a real talking point among your clients.
They'll look forward to visiting your venue as often as possible.
They'll be so amazed at how the artificial grass feels underfoot that they won't want to leave - and when they do, they'll look forward to coming back.
Customers that don't want to leave your premises, and can't wait to come back again, can only be good for business. And just think how many people they'll tell about you!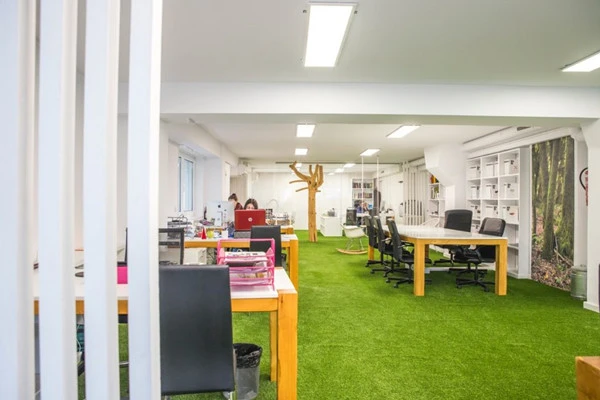 2. It Creates a More Relaxing, Productive Work Environment
Numerous studies have shown that colors can have a profound effect on a person's mood and performance.
This has been known in the interior design industry for years.
Warm colors, like red, yellow, and brown, can evoke feelings of warmth and comfort, but can also make us feel hostile or angry.
Cool colors, such as those on the blue end of the spectrum, can help us feel calm, but can also induce feelings of sadness or apathy.
Because color has such an impact on our mood and work performance, business owners and office managers certainly shouldn't take it lightly when considering the use of color in their office environment.
Green has been shown to help people relax.
That's because it's a color most associated with nature.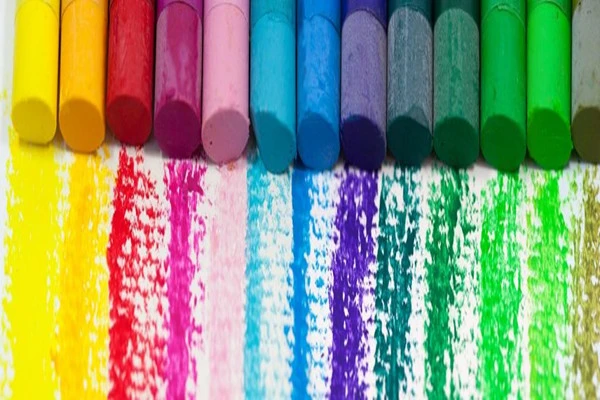 It symbolizes renewal and growth, it's the color of spring when nature comes back to life, and it's the reason we spend quality time outdoors.
Maintaining a calm and relaxed state of mind can help improve productivity.
But it's not just the color of artificial grass that will make your office a more relaxed and productive environment; its look and feel can have an impact on your employees, too.
Artificial grass will help them get back to nature, making the office an even more attractive place to work – and it feels great underfoot.
Let's face it, most offices are dull, bland workplaces, filled with beige, gray, or mud-brown furniture, walls, and floors. Having a large patch of green underfoot can make a huge difference.
And you never know, it might just help your employees enjoy coming to work each day, reducing stress and reducing sick days.
If you can help your employees enjoy their day-to-day work, the end result can only be increased productivity.
Having happier, more productive employees on your team will mean quickly recouping the initial outlay for installing artificial turf. Installing artificial grass can benefit the bottom line.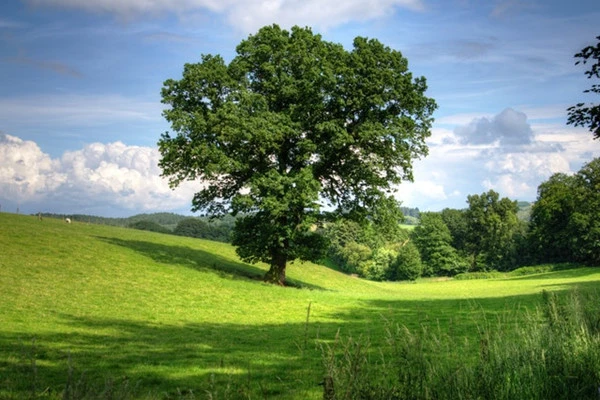 3. It Provides a Non-slip Flooring Surface
When planning an office, employee safety should be a top priority.
If your office is an unsafe work environment for your employees, you may find yourself on the wrong end of a lawsuit.
Artificial grass creates an excellent non-slip surface and can be used to cover a variety of floor types such as carpet tile, tile and wood floors.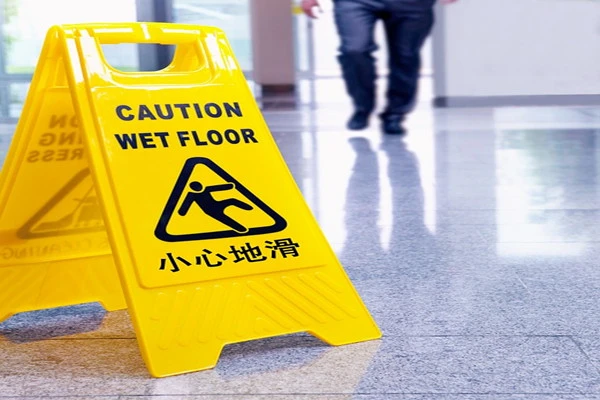 4. An Installation can be Temporary or Permanent
Artificial grass can be installed permanently in offices or as a temporary measure.
For example, you may wish to install artificial turf for your annual headquarters meeting, seminar or social event.
It is sure to impress employees and is sure to be a great talking point.
Temporary installation is as easy as laying grass in place.
It can then be rolled back again at the end of the event.
However, if you're considering a more permanent installation, you may want to enlist the help of a professional installer.
They will be able to advise on how best to install fake grass in an office environment.
A professional installer can also help you choose the best artificial grass for the job, as some types of grass will perform better than others when choosing artificial grass for an office environment.
You should never choose artificial grass based solely on aesthetics.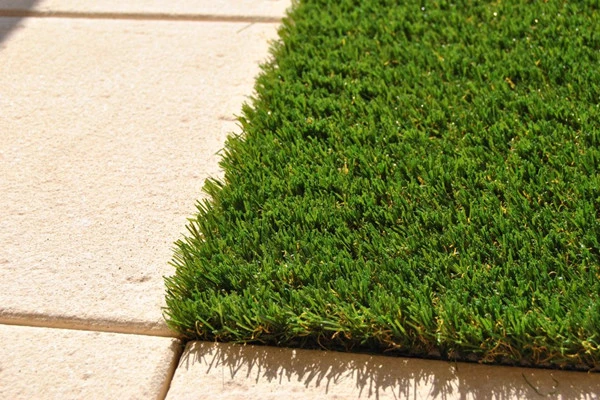 5. It Complies with Fire Resistance Regulations
The vast majority of artificial grass available today is fire resistant.
This means that even if the worst happens, the fire will not spread through any artificial grass you have installed in your office.
Of course, before choosing to install artificial turf, check independent testing to ensure that the artificial turf you choose will pass the flame resistance test for refractory flooring.
As long as this is the case, installing artificial grass in your office will be an excellent and safe option.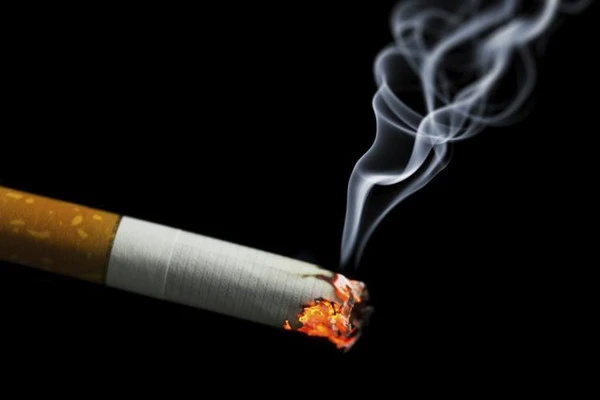 6. It's an Effective Way to Promote Your Business
Artificial turf can also boost the marketing of your business or company.
It creates a great buzz among existing and potential clients, and might even net you some welcome PR. Sending out a press release or calling your local newspaper can pay dividends.
Cares about the well-being of our employees and strives to create the best possible working environment.
It is also possible to incorporate your logo design into artificial turf. This is a brilliant idea for a reception area and is sure to "break the ice" when visitors come to your office.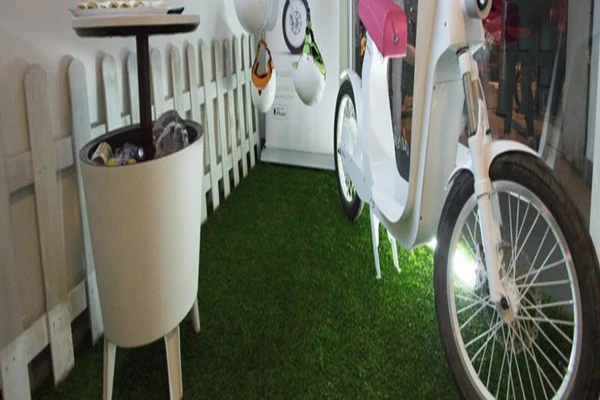 7. It's Cost-effective
By now, you might think all of these reasons sound good, but isn't artificial grass expensive?
Well, it might not be as expensive as you think.
Typical artificial turf installations are made in garden settings. In this case, it takes a lot of time to prepare the ground in order to provide a strong enough foundation for the fake lawn.
However, for office installations, very little ground preparation is usually required. This means that large areas can be installed quickly, reducing labor costs.
Don't forget, artificial grass can be an excellent investment for your business.
Initial payouts can be quickly recouped through improved morale, increased productivity, and fewer employee sick days.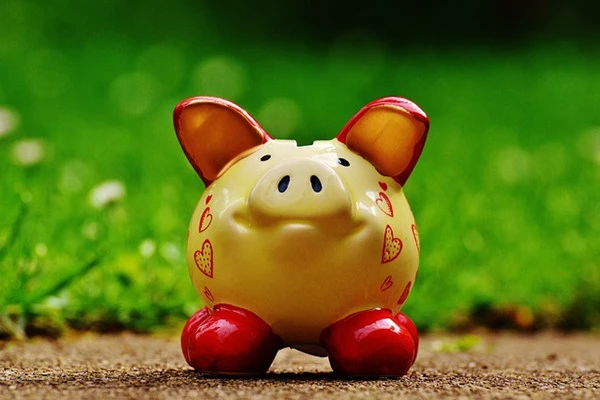 6 Ways Artificial Grass can be Used in an Office Environment
Ok, now that you've decided that installing artificial grass in your office sounds like a great idea, but what are the different ways artificial grass can be used in an office?
Well, to give you some inspiration, we've listed 6 different ways you can use fake grass in your office or workspace.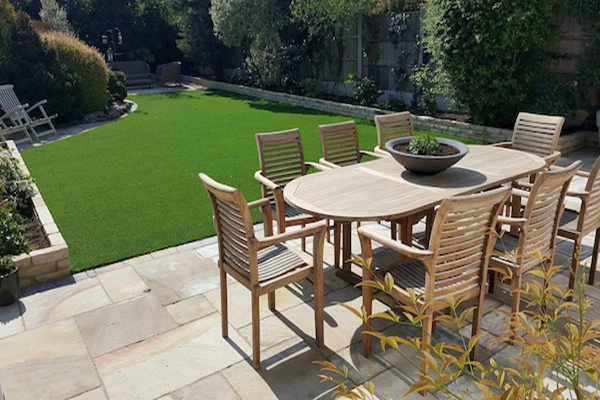 1. On Your Desk Top
You don't have to install artificial turf throughout your office to reap some of the benefits. You can even place small scraps on your desk.
It will definitely make your desk a more attractive workplace.
According to Science of People, a green computer desktop can increase productivity and reduce eye strain: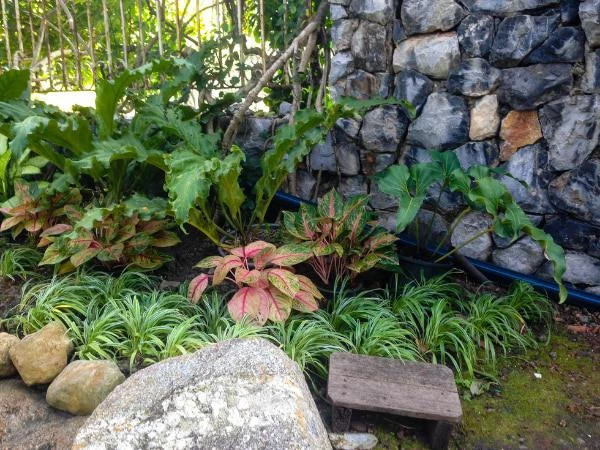 2. In the Canteen
The employee canteen is an ideal area to install fake grass.
Many people spend their lunch breaks in the employee cafeteria, and it is important for employees to use this time to recover from their morning work and prepare for their afternoon work.
Helping them relax by creating a calming environment will certainly go a long way towards doing this.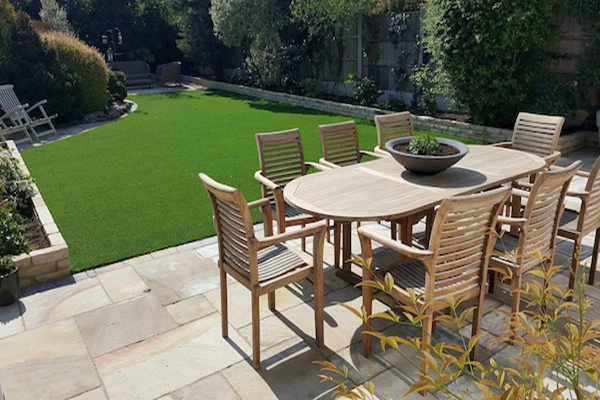 3. On the Office Floor
Many businesses have chosen to install artificial turf throughout their offices.
We've already talked about how it can elevate one's mood, but the feel of artificial grass underfoot can stimulate this even further.
The wear-resistant properties of fake grass make it an excellent choice for office flooring.
Cleaning is a breeze, and it's best to use a vacuum like you would a carpet.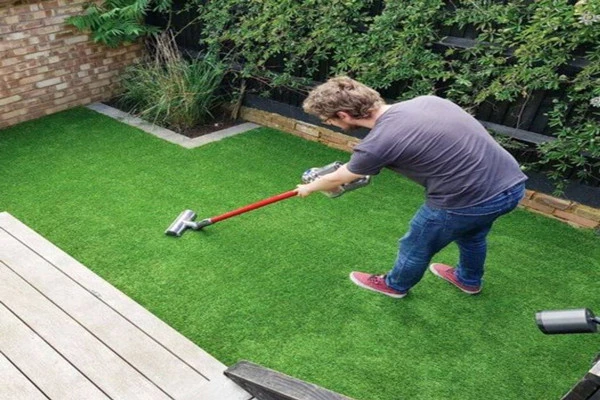 4. On Rooftop Gardens
Also, like the canteen, the rooftop area is a hotspot during break times, especially in summer.
Employees should be encouraged to get outdoors at lunchtime, as the fresh air will refresh them and prepare them for a productive afternoon.
Artificial grass can turn dull concrete and tarmac into usable areas for your employees to take full advantage of, which is sure to boost morale.
A word of caution here: If the staff has an outdoor smoking area, while the fake grass is flame retardant, falling cigarette butts may damage it.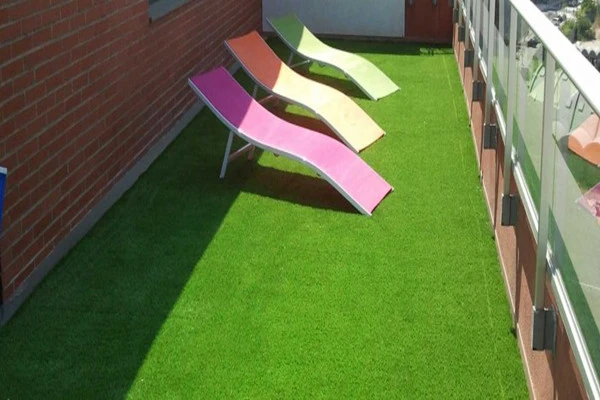 5. In Meeting Rooms
Let's face it, meetings can be tedious sometimes. People who don't want to be there sit around a table with other people who have nothing to say.
However, you can spark creativity by adding artificial turf to your conference room. It will boost mood and creativity and turn meetings into productive events.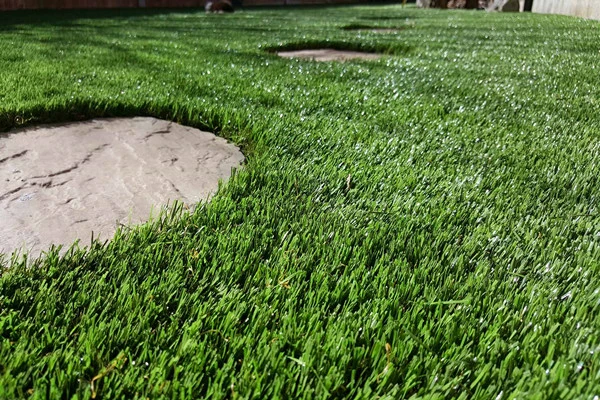 6. In Reception Areas
First impressions are everything, both for businesses and individuals.
Everyone, including potential clients, your employees, nervous job applicants, and even just the milkman, walks through your reception area before seeing any part of your office.
So why not make a positive first impression by installing artificial turf in your reception area?
You can also go a step further and have your logo embedded in the lawn. That should get people talking about you - and in a really good way!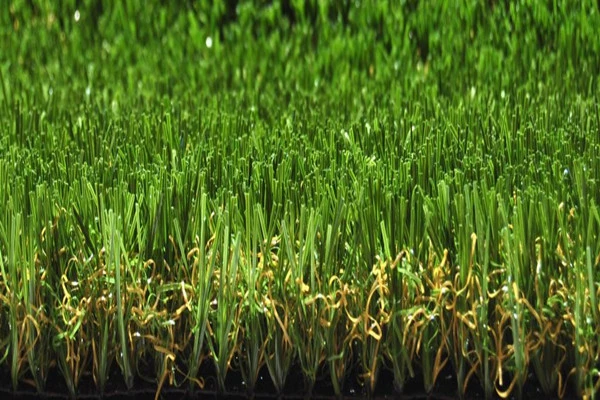 Conclusion
Artificial grass can have a lasting impact not only on your employees, but also on your customers. Lush green lawns are well-worn rugs any day of the week.
Bringing a little outdoors inside will boost morale, increase productivity and make your office a more enjoyable place to work.
In short, it will help increase your profits.
This makes artificial grass a very smart investment.
Its wide range of uses means that every business can incorporate artificial grass somewhere in the office.
If you would like to learn more about the types of artificial grass we recommend for office installations, please visit this page.
If you would like additional assistance with installation, please contact one of our approved installers today. You can find details of the local installer here.
Does your office have artificial turf? Do you want to install artificial turf in your office? Do you have any questions we didn't answer in this article? Please feel free to ask us and we will do our best to help.