7 Reasons to Install Artificial Grass in Schools & Playgrounds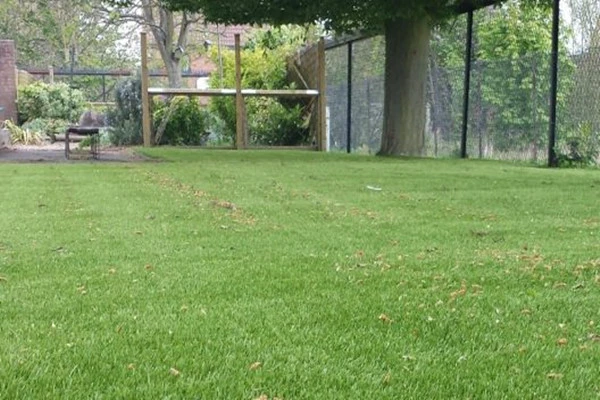 Modern technology means that artificial grass has improved by leaps and bounds and today it looks as good as real grass.
However, artificial turf has many benefits beyond aesthetics, especially for public schools and playgrounds.
Here, real grass gets a lot of use no matter what time of year it is. This creates bare patches and tracks in the most trafficked areas.
These bald spots create a tripping hazard, meaning children can fall and possibly get injured while playing.
Rain further increases the potential hazard, as these areas can quickly turn into muddy puddles.
However, with artificial turf, none of these hazards are a problem. It's durable enough to withstand heavy use and, when installed properly, drains freely, meaning no puddles -- and no mud.
Not only that, but the installation of artificial grass can also prove to be an excellent investment, saving schools and local authorities a lot of money due to its low maintenance costs.
With so many benefits, it's no wonder that many schools and playgrounds are turning to artificial turf, transforming playgrounds and dead zones into lush green artificial play areas.
Today there are many different types of specially engineered synthetic surfaces available for tennis, football, rugby and cricket stadiums, which not only provide excellent facilities for students, but can also generate additional income for schools and universities.
In this article, we take a closer look at seven reasons to install artificial turf in schools and playgrounds.
1. Less Maintenance Required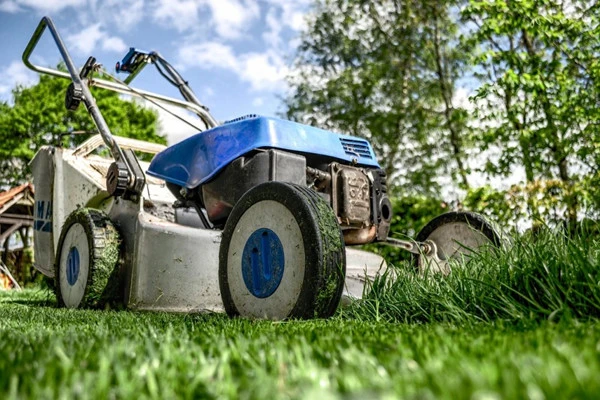 The most obvious benefit of laying artificial turf in schools and playgrounds is that it can greatly reduce maintenance costs.
For schools and other local authorities, this offers a huge advantage over real grass.
Typically, playground areas are either maintained by on-site crews, or a professional grounds maintenance company is contracted to do the work.
Both options are expensive and cost schools and councils a lot of cash.
A properly laid high-quality artificial turf will last around 15 to 20 years.
You may not know the maintenance costs involved in maintaining a real grass area over a 15 year period, but in our experience it is often several times more than the initial cost of fake grass.
There is no getting around the fact that the initial outlay for artificial turf is significant, but the cost is usually recouped within 5-10 years, while also saving many man-hours that could be focused elsewhere.
Once artificial grass is installed, it requires little maintenance and requires no specialized equipment other than a broom and/or leaf blower.
Some of the maintenance costs that can be saved are:
·Regular mowing
·Requires less fuel and oil to power and maintain equipment
·Save on chemicals and treatments such as herbicides, fertilizers and pesticides
·Lower payroll
2. Artificial Grass Can Be Used All Year Round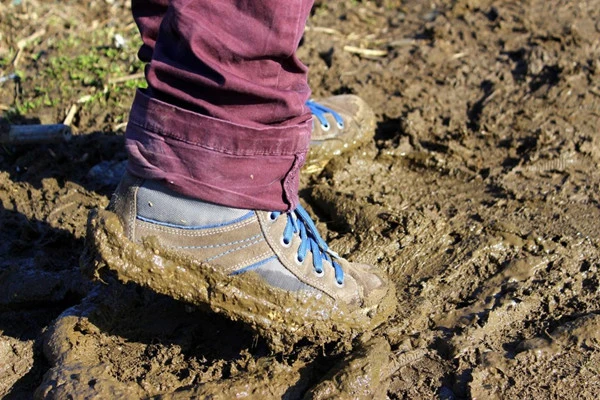 Typically, playing fields and real grass areas are off-limits to students and teachers during the winter months or after heavy rains.
This may mean that playtime activities are limited to small areas of tarmac or concrete playgrounds.
This can become a problem if there is a shortage of school or playground space.
On playgrounds with real grass, it is not uncommon for bare spots to develop around play equipment due to heavy use and/or lack of sunlight, and these areas may also develop large patches of mud and silt that render the play equipment unusable.
These mud puddles can pose a safety hazard due to the risk of slipping. Additionally, children who have been walking in the mud will be at greater risk of falling if they climb the play structure.
However, artificial grass can be used year-round. With no dirt and messy fake turf, it can be played the same whether it is summer or winter.
Children will love playing on the synthetic turf as they will find it as soft as real grass - while budding footballers will feel like they are playing at Wembley Stadium.
3. It Will Brighten Up Dull Areas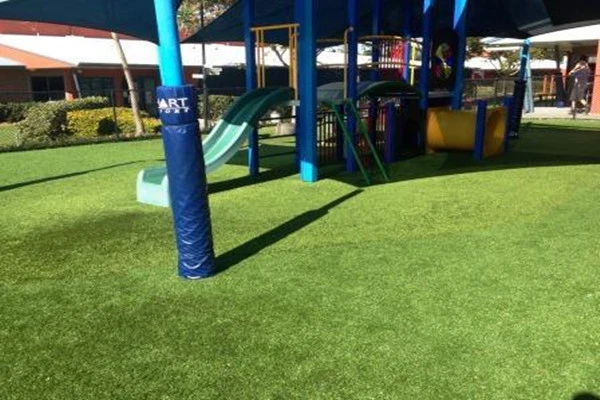 Artificial grass can transform dull, lifeless areas of concrete and tarmac into lush green spaces perfect for playing.
This is particularly attractive to inner-city schools that do not have large green spaces for play and activity.
Virtually any area of an existing surface can be converted into artificial turf or a playground.
Many schools also have dead-end areas where real grass struggles to grow. These areas can turn into swamps or become a safety issue.
A more attractive school or nursery helps create a better environment for children to learn and play, and can be an important selling point to attract new students.
4. No Toxic Chemicals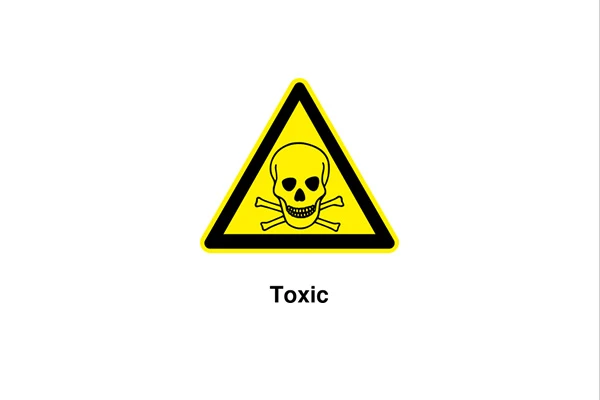 When toxic chemicals and fertilizers are used on grass to control weeds and insects, most schools and playgrounds have to close because they can be harmful to humans.
Of course, with artificial grass, this is less of an issue as it does not require fertilizers, herbicides or pesticides of any kind, creating a safer environment for children to learn and play.
Artificial grass has been controversial in recent years, but several studies now show those concerns to be misplaced.
However, it remains vital that whoever comes into contact with any artificial grass has it properly analyzed and tested for the presence of any potentially harmful substances.
Understandably, ensuring your artificial grass is free of harmful substances can be a particularly difficult task.
To be sure, always check with the manufacturer for a certificate from an independent testing agency that their product has been tested and analyzed for hazardous substances.
This will reassure any customer, not just schools and local authorities, that their artificial turf has not been contaminated with any potentially harmful substances.
5. Better for Allergy Sufferers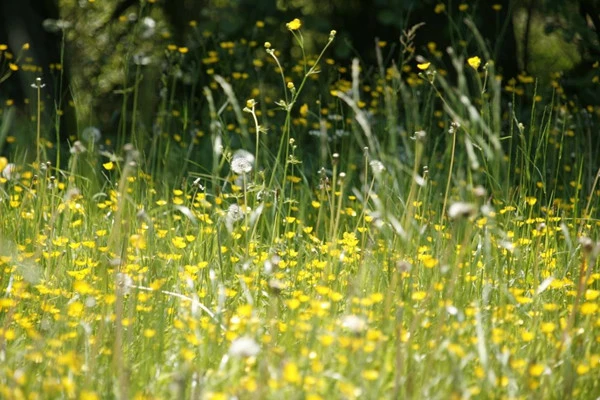 Hay fever or allergic rhinitis is one of the most common allergies worldwide.

One of the main causes of hay fever is pollen from the grass itself. Mowing grass is a trigger that releases pollen into the air, which affects both children and adults.
Hay fever can cause frequent sneezing, runny or stuffy nose, itchy eyes, throat, mouth, nose and ears, and even a cough.
Obviously, if a child has these symptoms, their concentration and schoolwork will definitely be affected.
Artificial grass does not require mowing, so there is less pollen in the air for children to inhale, reducing the effects of hay fever.
6. A Safer Environment for Children to Play In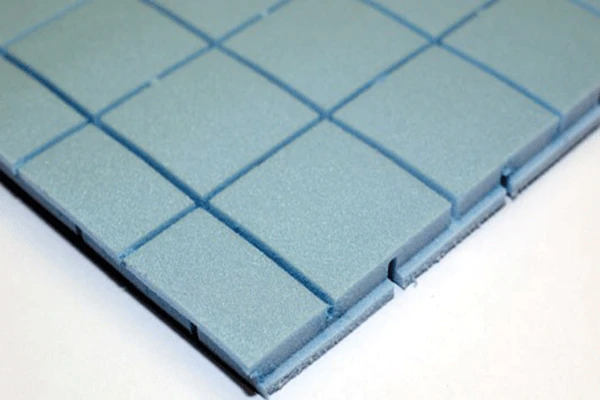 Of course, one of the main concerns of any school, playgroup or nursery is child safety.
With its technologically breakthrough composition, artificial grass has been proven to withstand high traffic and rough movement without cracking or eroding. So both small and large schools can enjoy this durability without worrying about degradation over time.
In addition to being able to play on artificial turf without clumping, it also meets government standards for head impact.
A play area is essential as a safe environment for children to play in, especially if play equipment is involved.
For artificial grass this can be easily achieved by installing 10mm or 20mm foam shock pads.
These cushioned foam inserts protect against falls of up to 3 meters and are ideal for use in and around play equipment areas.
But they can also be used to quickly and easily transform tarmac or concrete areas in schools and playgrounds.
Typically, there is no need to excavate existing concrete or tarmac (as long as it is in good condition), as the foam cushioning can be installed directly onto the prepared existing surface. This reduces installation time and of course financial costs.
7. It's Perfect for School & University Sports Pitches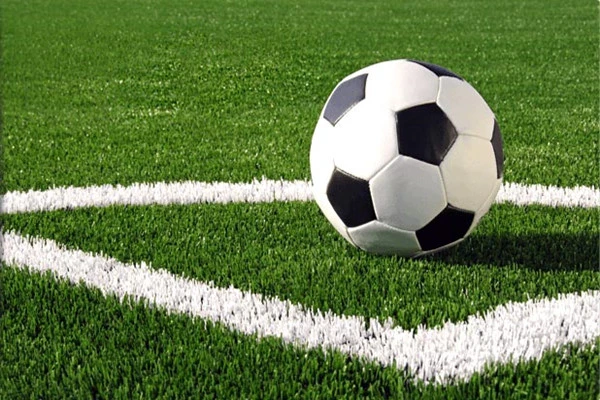 With so many different types of artificial sports surfacing on the market today, artificial turf or artificial turf can be installed for many sports, including tennis, football, rugby and cricket.
After all, artificial grass was originally intended for sports fields.
Real grass courts require a lot of man-hours to ensure they are properly maintained. Artificial grass requires absolutely no watering, fertilizing, weeding or mowing. This saves a lot of time and money for owners of large playing fields.
3G Football Turf pitches (FTP) have grown in popularity in recent years and there are now many local pitches across the UK.
The recent commitment by the Premier League and the FA Facilities Fund to help local communities improve grassroots football facilities, including the construction of 3G FTP pitches, is evidence of its benefits and growing popularity.
Sports turf has many benefits, including:
·Low maintenance cost
·Year-round, all-weather surfaces
·Completely free draining
·Excellent playing characteristics in terms of ball bounce and roll
·But there are also economic benefits that come with artificial sports turf.
For example, a local school might decide to build a 3G soccer field for students to use, but also rent it out after school, generating additional income.
The durability of the synthetic surface means it will not wear down with heavy use, unlike natural grass pitches.
Conclusion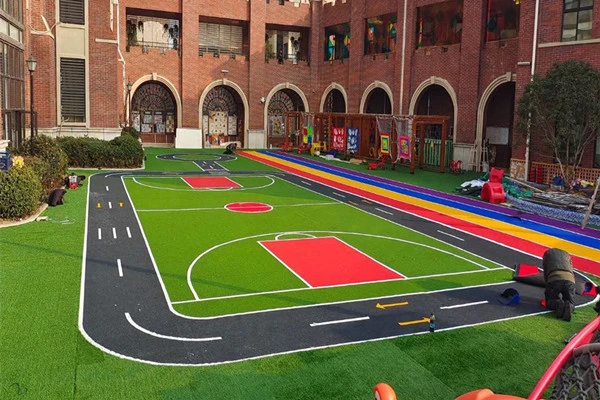 Not surprisingly, many schools and playgrounds are turning to artificial turf, which has many benefits over real grass.
Whether it's a small play area, a large sports field or a football field, artificial turf is an excellent solution for schools, playgroups, local authorities and universities, among others.
The heavy use of such areas makes them ideal for artificial turf.
Of course, the initial investment of artificial grass is often large, but this cost is usually recovered after 5-10 years.
Its low maintenance means a lot of long-term savings.
If you would like to learn more about artificial turf for schools and playgrounds, click here.
Alternatively, if you would like to learn more about artificial grass for sports surfaces, including 3G football pitches, click here.
As always, please leave a comment below with any comments or questions as we would be happy to help local schools, nurseries or local authorities with their queries.