The Ultimate Artificial Grass Maintenance Guide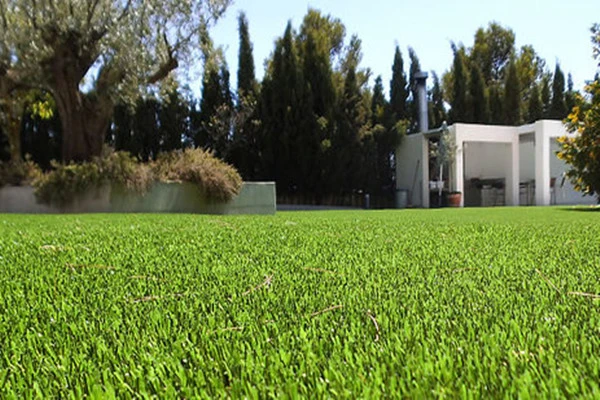 You may have heard that artificial grass is completely maintenance-free. Unfortunately, however, this is not quite true.
Anything that is outdoors, exposed to the elements, and used a lot requires some level of maintenance.
One of the main advantages of artificial grass is that it makes your garden more useful, but of course, this increased usage has an effect on your artificial lawn as well.
However, the good news is that artificial turf maintenance takes only a fraction of the time it takes to maintain real turf.
With our increasingly busy lifestyles, the extra spare time you'll get cannot be underestimated.
Along with the many other benefits of artificial grass, this has led to a huge increase in the number of homeowners installing artificial grass in their gardens.
However, once installed, many homeowners face many maintenance-related questions such as; how to keep artificial turf clean? What happens if I spill something on it? Or can I put heavy objects on my fake lawn?
In this article, we explain how to maintain your artificial turf and explore some of our most frequently asked questions about artificial turf maintenance.
When it comes to maintaining your artificial turf, there are 4 simple steps to help keep it looking its best:
1.keep clean.
2.Remove leaves and debris.
3.Brush synthetic fibers regularly.
4.Prevent weeds from growing.
If you follow these steps, you can be sure that your artificial turf will remain in the same immaculate condition it was when it was first installed, and you can enjoy years of enjoying an award-winning lawn suitable for the whole family.
First, let's take a look at the 4 simple steps you need to take to maintain your artificial turf.
How to Maintain Your Artificial Grass in 4 Easy Steps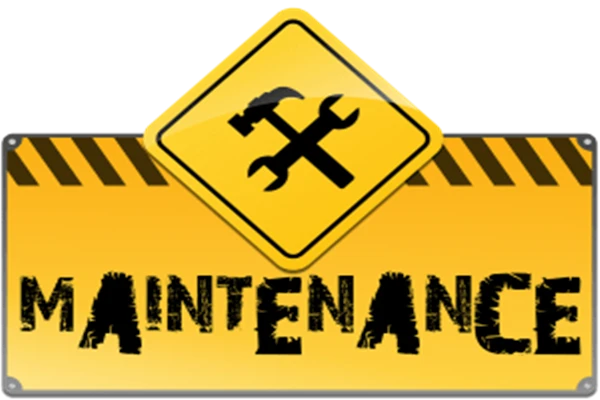 Keep It Clean

To ensure a "healthy" artificial turf, it is important to keep the turf clean.
Fortunately, artificial grass is somewhat self-cleaning. The rainfall we experience in the UK is usually enough to clean your artificial turf. It's also the cheapest and easiest way!
However, during the summer (usually) when there is less rain and artificial turf usage is high, you may find it beneficial to give your lawn a thorough rinse.
How often you do this will obviously depend on the level of use of your lawn, but for an average fake lawn, you usually don't do this more often than every other week.
Spraying your lawn removes dust, dirt, pollen, and other air pollutants.
It also helps prevent uneven distribution of sand fill in artificial turf.
If your artificial turf is very dirty, we recommend using a hot water solution of 5% household detergent and then sponge the affected area. The lawn can then be rinsed with a garden hose.
There is also a range of artificial turf cleaners on the market, and while these cleaners are not necessary to maintain an artificial turf, they are perfectly safe to use.
Remove Leaves and Debris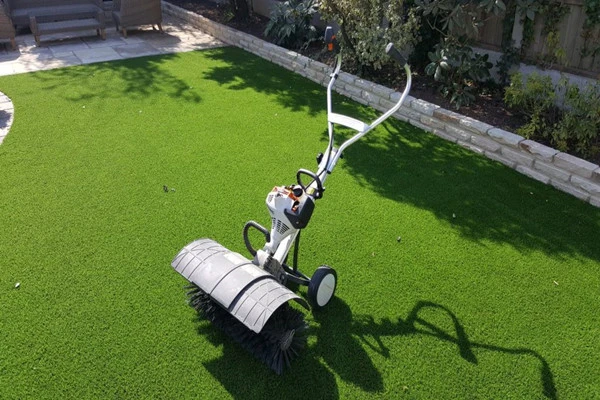 Over time, especially in the fall, debris such as leaves and twigs can settle onto your fake lawn.
This won't harm your artificial grass in any way, but the debris has the potential to encourage weed growth.
Therefore, it is recommended that you regularly remove leaves and debris.
For this we recommend using a professional artificial grass rake, stiff broom or leaf blower/vacuum.
Obviously using a leaf blower/vac would be the easiest option here, but it's certainly not necessary as a professional artificial grass rake or a good quality stiff broom will do the job too.
Under no circumstances should metal rakes be used on artificial turf, as this can damage the synthetic fibers.
How often you perform this task depends on your garden's surroundings and the current season.
Brush the Artificial Fibres Regularly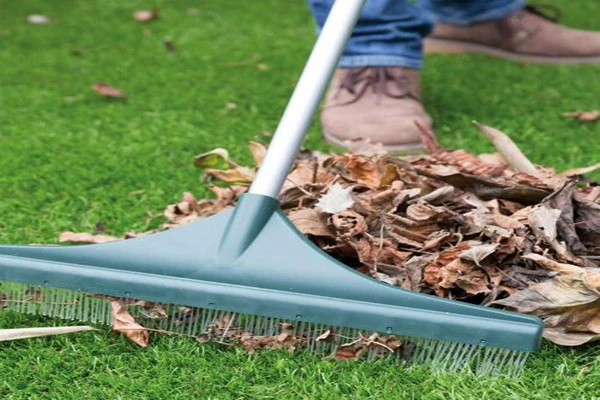 We also recommend that you brush your artificial turf regularly to prevent matting and ensure the fibers stay upright.
Over time, you may notice that the fibers on your Turf don't stand up like they used to. This is completely normal and just a result of using artificial turf.
To brush the grass, we recommend you use a stiff broom with synthetic bristles or, better yet, a professional artificial grass rake. Under no circumstances should brushes with metal or wire bristles be used as this can damage the fibres.
You should brush your lawn using what we call "cross brushing".
This means you brush the grass in the opposite direction to the man-made fibers.
You'll notice that all artificial turf has a slight pile direction, where the fibers are slightly angled in the same direction.
(Tip: When installing a new artificial grass, it is always best to orient the lawn towards the side you will see the grass most, such as your house or patio. This is because it is usually considered the best side - the side of the artificial grass .)
Brushing your artificial turf will "fluff" the fibers and bring them back upright.
You may also notice that if you leave heavy objects on your lawn, such as garden furniture or a paddling pool, it will cause the artificial fibers to lie flat.
This won't damage the high-quality artificial grass, and the cross-brush technique can be used to lift the fibers back into an upright position.
If you plan to place heavy objects on your artificial turf on a regular basis, such as a paddling pool or garden furniture, then we highly recommend choosing an artificial turf with instant recovery technology.
If artificial turf has this innovative technology, it means that the synthetic fibers are already made of nylon.
Prevent Weed Growth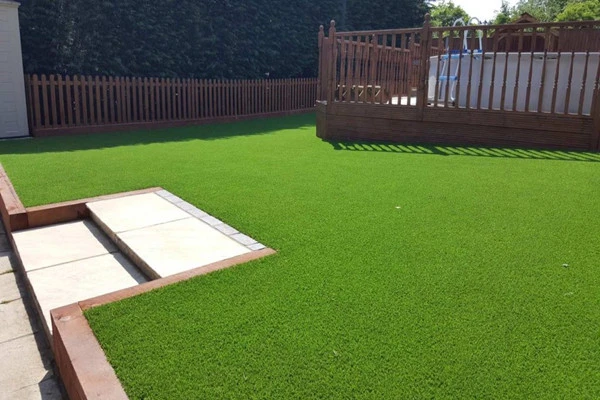 If your artificial turf is installed correctly, you won't be able to grow weeds on your artificial turf.
However, airborne seeds have the potential to nestle in man-made fibers, allowing weeds to grow on surfaces.
Fortunately, since these weeds won't grow on your lawn, they're easy to remove by hand.
Another potential area for weed growth is right at the edge of artificial turf.
This is because the weed membrane that is supposed to be installed under the grass only extends to the perimeter of the lawn, so it is possible for weeds to bypass the edge of the membrane.
Artificial grass is also prone to moss and if this is the case on your artificial lawn we recommend removing it with a professional artificial grass rake, electric brush or garden vacuum.
To prevent future moss growth, we recommend using a water-based herbicide on your fake lawn.
Can be sprayed using a watering can with sprinkler head, if weed/moss growth is a problem we recommend twice a year spraying with herbicide.
Still, the chances of weeds growing on your artificial lawn are very slim, and if they pop up, you can rest assured they're easy to deal with.
Another way to prevent weed growth is to ensure "weed-free" sand fill is installed during the installation phase.
Available from most major DIY stores, this "weed-free" sand has built-in weed inhibitors to keep weeds from growing in your lawn.
As you can see, artificial turf maintenance is minimal, but it is important to perform these tasks to ensure that your artificial turf will last.
You may have more questions about fake grass maintenance, below are answers to the most frequently asked questions.
How Do I Remove Stains From My Artificial Lawn?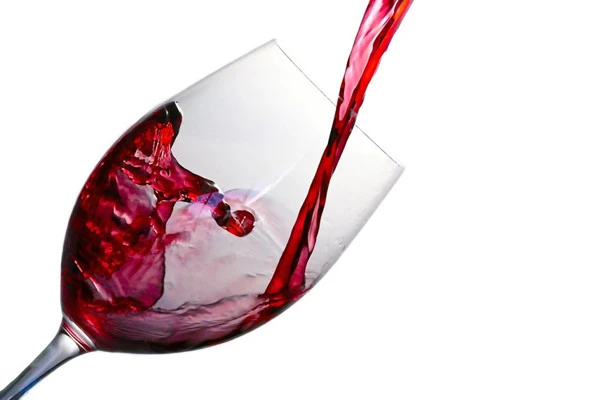 The first rule of thumb when dealing with stains is to act fast.
This is because you will find it much easier to deal with the stain before it dries or hardens.
Artificial grass is very resistant to stains, but you do need to be careful with the products you use on artificial grass.
Some products may be suitable for handling plastic fibers but may adversely affect other aspects of artificial grass, such as the latex backing.
If your stain has hardened, we recommend removing it first with a plastic knife or spatula, being careful not to damage the fibers or pull them too hard.
For fresh spills, the first thing to do is absorb as much liquid as possible.
This can be done with a kitchen towel, a clean cloth, or an absorbent such as cat litter, which can be swept up or blotted away once the liquid has been absorbed.
Depending on the stain, you may also need to use a household cleaner.
We recommend using something like washing up liquid or granular household detergent.
It can be mixed with warm water and applied to artificial turf using a sponge or brush.
If using a brush, always make sure it contains synthetic fibers, as metal or wire brushes can damage plastic fibers.
You can then rinse the affected area thoroughly with a garden hose.
In the vast majority of cases, this procedure is sufficient to remove stains caused by:
ketchup and mustard
Carbonated drinks
ice cream
Alcohol
butter
tea and coffee
Blood
However, if you have oily stains, we recommend using a small amount of white spirit.
Great care needs to be taken when working with petroleum spirits, which should of course be used sparingly.
To treat your artificial grass with petroleum spirit, apply a small amount to a clean cloth and carefully wipe the affected plastic fibers. This should take care of stains caused by:
cooking oil
asphalt and tar
sunscreen
painting
car engine oil
nail polish
We always recommend testing petroleum jelly on a small, inconspicuous spot of your lawn to make sure you don't experience any discoloration.

Also, make sure the area is well ventilated, and remember that white spirit is extremely flammable, so do not smoke or allow open flames near where these products will be used.
For more information on removing stains from artificial turf, read our guide to removing stains.
How Do I Remove Chewing Gum From My Fake Lawn?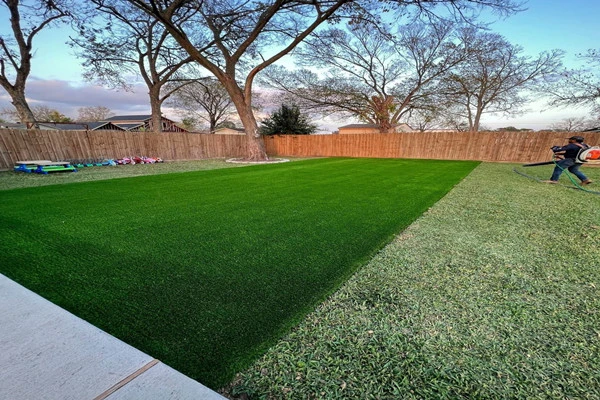 Many gardens have poor drainage.
This can be due to a variety of factors, such as the clay content of the soil, a high water table, or if your garden is located at the foot of a mountain or in an area prone to flooding.
Poor drainage can result in swampy, patchy lawns that are unusable after downpours.
Some unlucky gardens and lawns may experience these problems most of the year, only drying out in the height of summer.
However, artificial grass is fully permeable, allowing up to 50 liters of rainfall per square meter per hour to drain through it.
This is due to the perforations located on the artificial grass backing.
As long as a permeable sub-base is installed, this water drains to the ground below rather than resting on the lawn surface.
Fake grass will greatly improve your lawn's drainage, allowing you to keep using it even after a downpour.
Perfect for those showers that always get used to dragging the BBQ out.
How Do I Clean Dog Waste From Artificial Grass?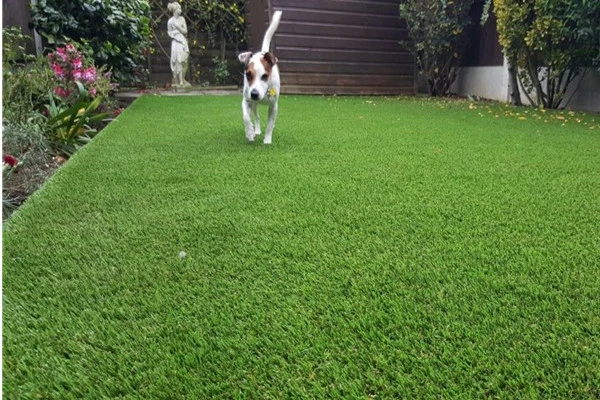 Many people are tired of their pets turning their lawn into a mud bath, so they install artificial grass.
Pet owners are understandably frustrated at having to clean up muddy paws every time their dog is out and about.
Artificial grass is ideal for pets because they can't damage it.
They will love running around on the artificial turf just like they would on the real thing.
They can also "use" it in exactly the same way, since urine and solids won't harm or discolor artificial grass.
When cleaning dog poop from grass, solids can be removed as usual.
If your synthetic grass is installed correctly, urine will drain through your artificial turf without leaving any odor.
During the summer we recommend that you occasionally rinse your artificial turf with water, but you should do it anyway as part of the regular maintenance process we recommend earlier in this guide.
If your lawn is not installed on a free-draining substratum, you may want to invest in one of the many artificial turf cleaning products on the market that can remove urine odors and disinfect your lawn.
How Do I Remove Dog Hair From Artificial Grass?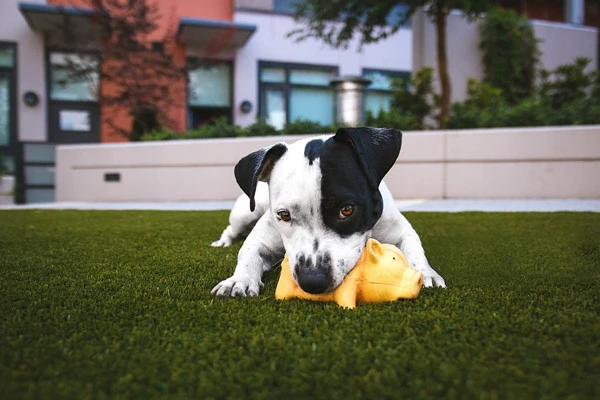 As part of the 4-step maintenance routine we explained earlier in this article, we recommend brushing your artificial turf.
Regular brushing will ensure the synthetics stay upright.
Brushing can also be used to remove dog hair buildup on fake lawn.
Unlike the "cross combing" method we described earlier in this article, where you brush over the undercoat, to remove dog hair we recommend sweeping in the direction of the undercoat.
To do this, get yourself a stiff broom or a professional synthetic grass rake.
Starting at one end of the lawn, without lifting the broom from the grass, in one continuous motion, push the broom along the length of the lawn.
This technique will remove dog hair.
Another, possibly easier, alternative is to use a garden vacuum, but an artificial grass rake or broom will work just as well.
How Do I Remove Snow and Ice From Synthetic Grass?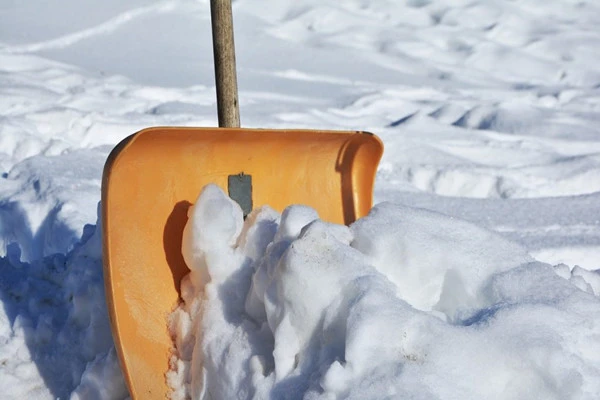 The best way to deal with ice and snow is to let it melt and let it drain naturally.
However, if you do need to remove snow from your artificial turf, we recommend using a plastic snow shovel to remove the top layer of snow.
The lower layer can then be swept away with a broom.
If ice forms on your artificial turf, you need to be careful. Unfortunately, you won't be able to delete it manually.
This is because the plastic fibers can be damaged or even pulled out when trying to de-ice.
The best way here is to let it defrost naturally.
Will Heavy Objects Damage My Grass?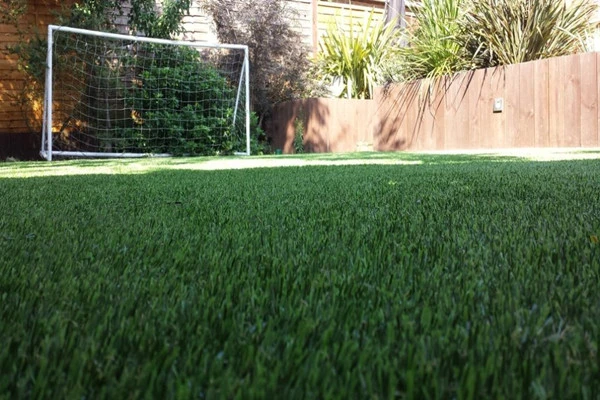 You may want to place items such as a paddling pool, trampoline, futsal goal or garden furniture on your artificial turf.
Whether these items will damage your lawn will depend on the quality of the artificial grass.
If you often place heavy loads on artificial turf, we strongly recommend that you use turf made of nylon fibers, as they are the most wear-resistant.
For a lawn that can withstand heavy loads, that means choosing artificial grass with instant recovery technology. Our UdineGrass will be a good choice.
It's also important to move heavy objects around the lawn regularly to avoid damaging the fibers.
If your grass has flattened due to heavy loads, use an artificial grass rake or stiff broom to stimulate the fibers back upright.
One word of warning about garden furniture though:
Always make sure there are no sharp edges on the feet of chairs and tables, as this has the potential to cut through the artificial grass.
If this happens, it can be repaired with joint tape and joint adhesive, but it can be avoided by inspecting the garden furniture before placing it on the artificial turf.
Can I Put a Bird Feeder On Artificial Grass?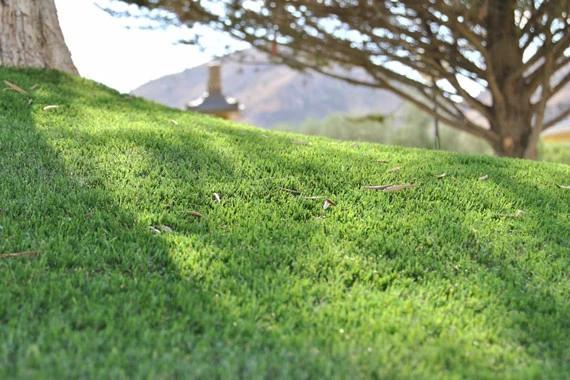 While the bird feeder itself will not damage artificial turf, we recommend avoiding placing bird feeders on artificial turf.
Bird feeders will only encourage droppings to settle on your artificial turf, which requires regular maintenance to keep the area clean.
Feces may also attract rodents, which may dig into the grass around the feeder.
Conclusion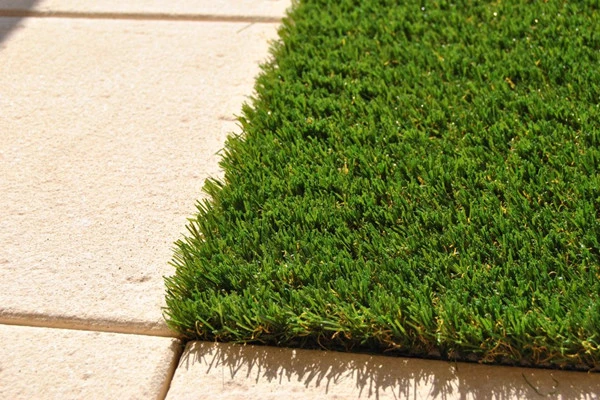 Hopefully this article has answered some of your questions about how to maintain artificial turf.
As you'll learn from this article, artificial grass isn't completely "maintenance free."
Like anything exposed to the elements, some maintenance is required.
Fortunately, though, maintaining artificial turf requires minimal effort on your part.
Be sure to follow the advice in this article and you can expect your artificial grass to prove to be an excellent investment on your property.
You'll also find yourself spending more time relaxing in the garden than working in it.
The kids will love playing games on their fake lawn, so they will have their hands full while the dog can use it however they want without damaging it.
With proper care and maintenance, your artificial turf will retain its stunning appearance for a long time to come.
Artificial grass can really transform your property and make your life easier.
If you are still in the process of choosing the best artificial grass for your needs, you may find our article, 7 Important Considerations When Choosing the Best Artificial Grass, useful.
If you have any questions about artificial grass maintenance or would like to share any tips, drop us a comment below, we'd love to hear from you.