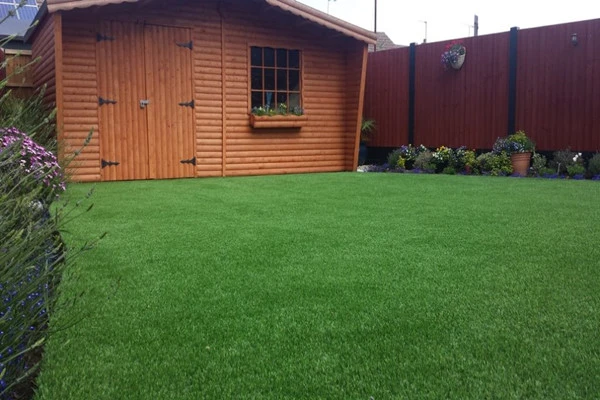 Artificial turf can be a large investment, and it can be difficult to know which one is best for your needs.
Suppliers of artificial grass, all of which offer several different types of artificial grass.
Available in different pile heights, different fiber shapes, different fiber plastics and different colours.
The first thing to do when choosing the best artificial grass is to request a sample from the manufacturer. Once you have samples, start by finding the ones you find most visually appealing.
You should always look at samples by placing them on the surface you wish to lay artificial grass on, whether it's your existing lawn or another surface such as concrete or a deck.
This is done for two reasons.
First, you can compare the samples to your real grass to check that they are real, and second, you can get an idea of their true color.
If you look at the samples inside, you'll notice that the color of the grass looks slightly different than the outside.
This is obviously due to varying lighting conditions, so you should always look at samples outside during the day to get a true sense of how the grass will look in your garden.
Unfortunately, however, aesthetics alone are not enough when deciding which is the best artificial turf.
Once you have chosen a grass that you like aesthetically, it is important to take a closer look to determine if it is the best artificial grass for you, including determining if it is of the right quality.
This guide will help you understand some of the less obvious things to look out for when choosing the best artificial grass and explore in detail seven important things to consider when deciding on the best artificial grass for you.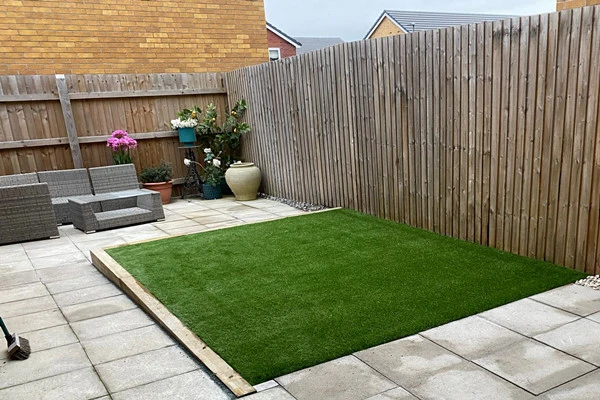 So what exactly should you be looking for?
In addition to the aesthetics of the artificial grass you choose, you'll want to consider:
Do I need artificial grass with instant recovery technology?
Do I need artificial grass with Feelgood technology?
Do I need artificial turf with Natural Look technology?
Has the grass been tested for harmful substances?
How long is the manufacturer's warranty?
Is fake grass fire resistant?
Where is the grass grown?
In this article, we'll explore each of these questions to give you a better understanding of what to look for when choosing the best artificial grass.
Do I Need An Artificial Grass With Instant Recovery Technology?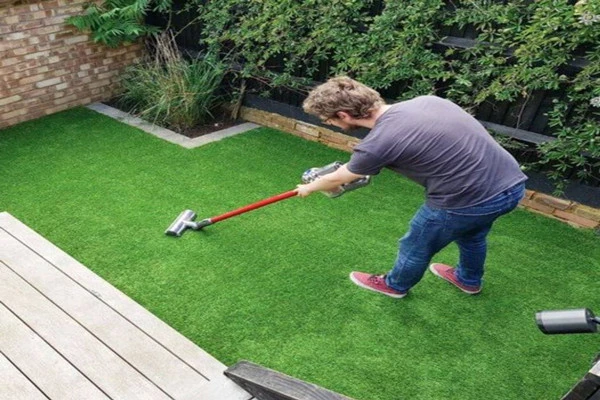 If you're looking for a hard-wearing lawn, your best bet is to choose artificial grass with instant recovery technology.
If synthetic grass has instant recovery technology, it means it is manufactured with nylon (polyamide) fibers.
The plastic fibers of artificial grass can be made from one (or a mix) of three different types of plastic.
Polypropylene, polyethylene or nylon.
Of the three, nylon is the strongest and most resilient.
When you compare nylon to polyethylene, it is 40% more elastic and 33% stronger.
Nylon is 22% more elastic and 26% stronger than polypropylene.
This is because nylon is the strongest and most elastic fiber in the textile industry.
As such, it is used to make parachute cord, fishing line, tennis racquet line, and of course the finest quality rugs and cushions.
You can be sure that when you buy a lawn with Instant Recovery Technology, you are getting a hardwearing artificial turf that can withstand foot traffic as well as heavy use from children and pets.
It's also great if you're putting items like garden furniture or a paddling pool on it.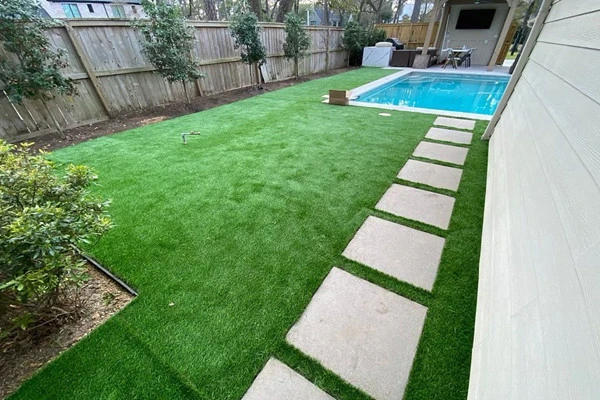 Another advantage of nylon is that it has a much higher melting point than other forms of plastic.
When polypropylene or polyethylene artificial grass heats up, the fibers become pliable and lose their ability to spring back.
Nylon doesn't do this, making it more elastic.
It's also kinder to the environment.
This is because artificial grass made with nylon fibers can be expected to last longer, meaning you won't need to replace it as often.
This has the added benefit of better improving your bank balance.
Win-win.
Are There Any Drawbacks With Using Nylon?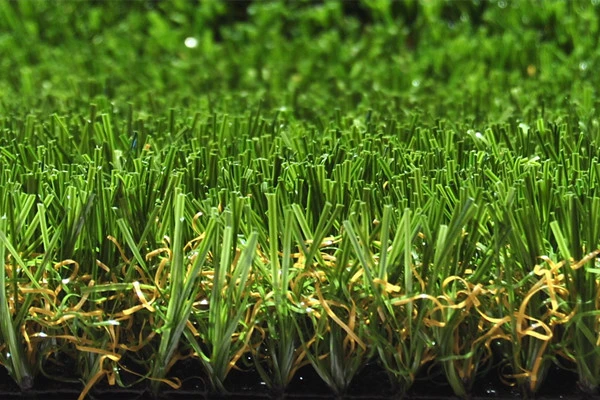 However, the compromise with nylon is that it is not as flexible as polypropylene or polyethylene.
But remember, the softer the fiber, the weaker it is.
If you're looking for a strong, resilient grass, then this is certainly a worthwhile compromise.
Our best advice is to ask us for a sample of grass and feel it for yourself.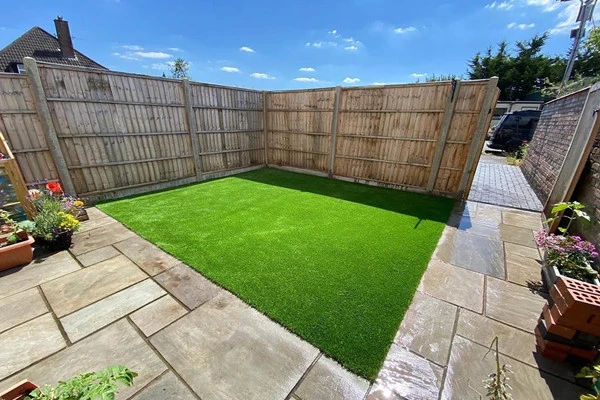 Due to its superior quality, it goes without saying that nylon is a more expensive plastic than polypropylene or polyethylene.
The manufacturing process also takes longer to complete.
This results in a higher overall price for the grass.
This is certainly not a problem for areas that will be heavily used, as it is more durable than other types of artificial grass and thus will be less expensive in the long run.
However, for front gardens and other low-traffic areas, we do not recommend using nylon grass as it is unnecessary.
Instead, choose a grass made from polypropylene or polyethylene fibers and save yourself money.
Do I Need An Artificial Grass With Feelgood Technology?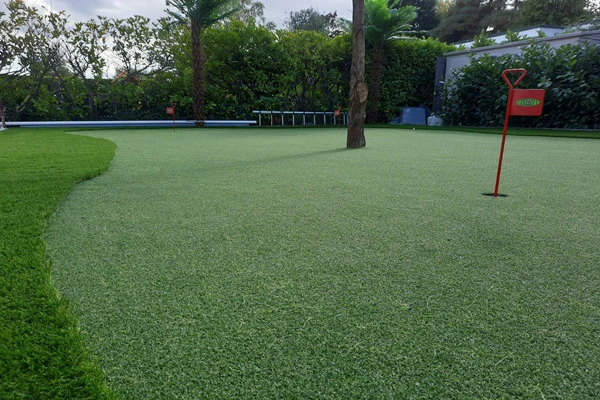 One of the disadvantages of artificial turf in the past was that the plastic fibers could become hot to the touch when the sun hit the artificial turf on a hot summer day.
This is because synthetic fibers retain the heat of the sun's rays.
Heat buildup occurs in most materials when thermal energy from the sun's rays hits a surface.
"Emissivity" is a scientific term for the degree to which a material releases heat.
We all know that dark clothes absorb more heat than light ones; well, artificial turf also retains heat and dissipates heat.
This can be uncomfortable when it's hot outside.
This is obviously a problem because these are the times when you most want to use lawn in your garden.
The last thing you want is not being able to use your artificial turf because it is uncomfortable to walk on.
However, this won't be a problem if you opt for artificial turf with Feelgood technology.
This revolutionary innovation ensures your lawn stays cool by reflecting and dissipating heat into the atmosphere; making your grass feel as good as it looks.
Do I Need An Artificial Grass With Natural Look Technology?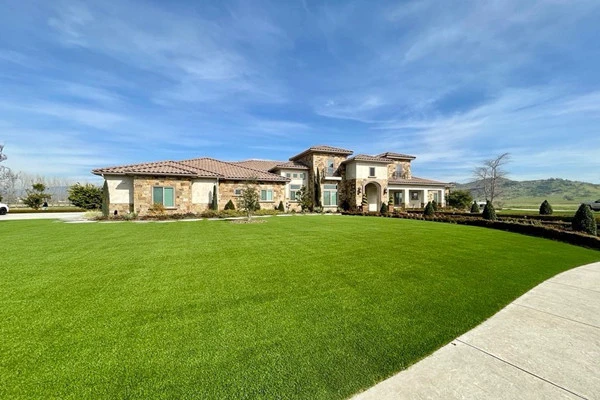 Of course, the whole idea of artificial grass is to replicate real grass as closely as possible, albeit without the effort and expense of maintaining a real lawn.
However, some artificial grass may look different depending on lighting conditions and viewing angle.
This is because ordinary artificial grass reflects sunlight, causing glare.
Due to their smooth, polished appearance, synthetic fibers are reflective in nature.
This glare can cause the fake grass to appear slightly lighter depending on the angle from which you view it.
In general, artificial grass looks best when looking at a haystack.
All artificial grass has a very slight pile direction, i.e. the fibers are slightly angled in the same direction.
Because of this, installers will often place artificial grass toward your house or patio (basically, where you'll see the grass most of the time).
This is certainly good practice and something we recommend you do, but what happens when you're looking from the other side of your garden?
Well, you'll notice that your grass will look slightly different in color, giving it an unnatural look.
For this reason, the "Natural Look" technology was developed.
Has the Grass Been Tested for Harmful Substances?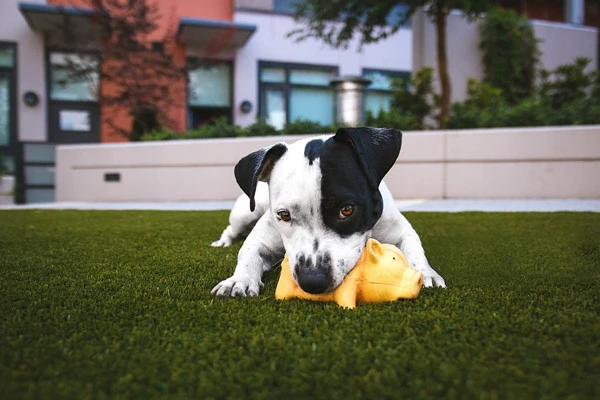 Unfortunately, some artificial grass has been found to contain dangerous chemicals such as lead in the past.
Therefore, choosing artificial grass that is free from harmful chemicals and substances is extremely important to the health of your family and pets.
This is because the standards around health and safety are among the highest in the world; they are usually set much more stringently.
To comply with these regulations, the manufactured grass must be rigorously analyzed.
The only way to determine whether your artificial turf is safe is to choose one that has been independently tested for harmful substances.
Many manufacturers may claim to market artificial grass that is free from harmful substances, but such claims should always be backed up by independent evaluation.
To check this you should contact your supplier and they will be able to send you a certified copy if it has been tested.
How Long is the Manufacturer's Warranty?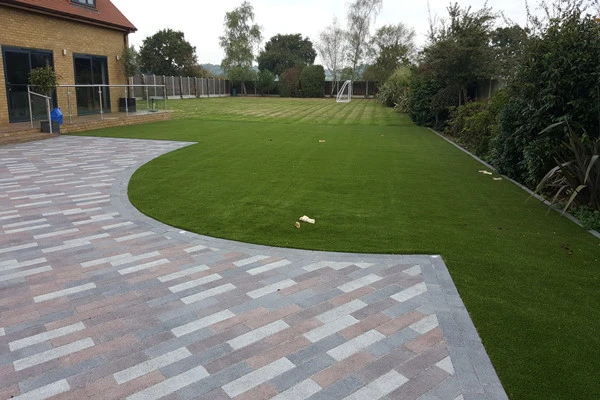 It goes without saying that the longer the warranty, the better.
However, you should always check to see what exactly is covered under the warranty, as some won't protect you as much.
Some of the better warranties will cover things like UV stability and fiber loss.
Check that the warranty includes details of any artificial grass abuse that could render it useless.
This could mean poor maintenance (yes, artificial grass still needs some maintenance), damage from tree roots, natural disasters, or cigarette butts.
Reading warranty documents is also a great way to learn from the manufacturer how you should use and maintain your artificial turf.
Another thing to keep in mind is that the warranty is usually only valid if the artificial turf is installed according to the manufacturer's recommendations.
Even if your artificial turf was installed by a professional artificial turf installer or landscaper, you should still check the artificial turf manufacturer's website for details on their recommended installation methods.
For your peace of mind, we recommend making sure your artificial turf has at least a five to eight-year warranty.
Is the Fake Grass Fire-Resistant?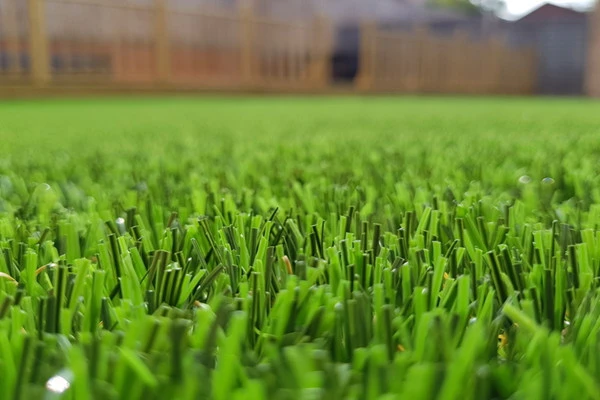 Some artificial grass can be flammable.
Unfortunately, fires can and do happen. The last thing you want is for your artificial turf to help the fire spread.
Also, like when evaluating fake grass for harmful substances, you'll also want to check with the manufacturer to see if the grass is fire resistant.
It is highly recommended to make sure the artificial grass you choose is up to standard as it will give you peace of mind should the worst happen.

Where Has the Grass Been Manufactured?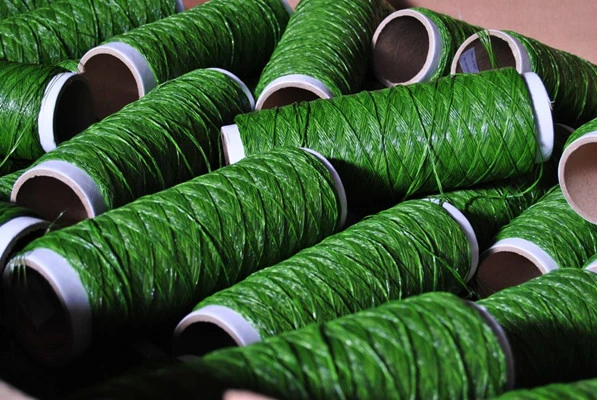 We suggest that the last thing you should look for when choosing the best artificial grass is to find out which country it is manufactured in.
Since the EU imposes strict standards and regulations on European manufacturers, the overall quality of artificial grass that meets EU standards is better than similar products in China.
Low quality grass tends to have noticeable "streaks" across the grass.
This results in noticeable lines in the lawn, which of course makes it look very unnatural.
The backing used to stitch man-made fibers during the manufacturing process is usually made of latex.
On lower quality artificial grass, this backing tends to have a higher sand content, resulting in a weaker backing. This causes the fibers to come off the backing, reducing the pile density.
Some grasses may indeed be cheaper than comparable products, but they are often of lower quality.
Therefore, when choosing the best artificial grass, it is advisable to know where your artificial grass was produced before purchasing.
Where Has the Grass Been Manufactured?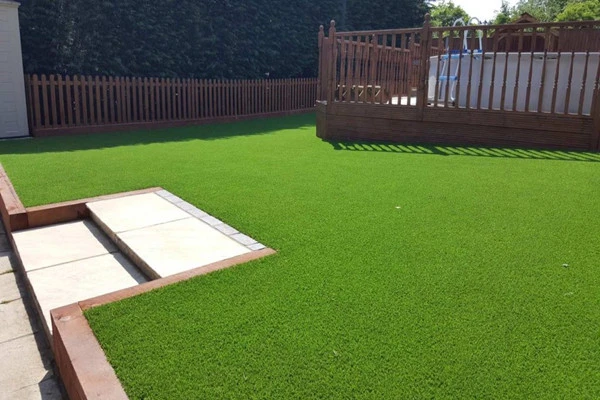 You should treat buying artificial grass like you would any kind of home improvement—as an investment.
If you get it right, your new artificial turf is sure to add value to your property, and you can enjoy all the other benefits of a low-maintenance lawn.
However, like any investment, you should proceed with caution.
Unfortunately, it's not enough to take each grass at face value.
It is also advised not to compare artificial grass solely on price and aesthetics.
To ensure that you choose the best artificial grass that will prove to be a good investment, you need to take a closer look at artificial grass and the manufacturers who produce it.
The purpose of this article is to point out some important considerations that will enable you to do just that.
Suggesting exactly which artificial grass is best for your needs can be a daunting task as everyone has different needs.
But if you follow the advice in this guide, you'll find the artificial turf that's right for you. It will transform your old lawn into a place you can be proud of, allowing you to lie back, put your feet up and use your garden as it should be used - relax!
Hopefully you now have enough information to choose the best artificial turf out of the many that are currently on the market.
Once this is done, your next decision is whether to go the DIY installation route or hire a professional installer.
We always recommend professional installation, as they have the experience to ensure your installation looks good and lasts a long time.
You can also start your search for the best artificial grass by requesting a free sample.
Hope this guide is helpful to you, please feel free to contact us if you have any questions.