The quest for a low-maintenance garden often leads you to consider a range of low-maintenance surfaces, from paving, to decking, to artificial turf. While there's certainly nothing stopping you from having all three, if you're dealing with a small garden, you might decide to opt for artificial turf or a deck.
Both options are worth considering, so in this article, we'll help you spend less time making your decision and compare the pros and cons of each.
What are the Benefits of Artificial Grass?
As we'll explore below, artificial grass has many benefits, but it's worth noting that we're discussing the benefits of artificial grass in terms of installing a high-quality artificial grass such as UdineGrass. You can't expect the same level of results if you just go to your local home improvement store and pick up any roll in the store. As we'll talk about later, you do get what you pay for.

· Looks natural (but better!) – One of the biggest selling points of artificial grass is its appearance. It stays a vibrant green color year-round and in perfect shape.




· Doesn't encourage pests – Lying or sitting on a lawn is something we all think about when we picture the perfect lawn, but nothing ruins relaxation in the sun like feeling the swipe of ants or spiders' feet. While artificial grass won't get rid of all pests, you'll find that you'll have far fewer problems enjoying your garden because they're much less likely to make a home there.




· No maintenance needed – Forget mowing your lawn in the garden on Sundays, trying to buy the right lawn food to get a full lawn despite your garden being shaded or sunny, airy, etc. Once your artificial grass is installed, there isn't much else you can do.




· Looks the same year-round – We've touched on this already, but it's worth mentioning. Artificial grass looks healthy and green all year round, so you'll never look at your garden in the middle of winter and think how depressing it looks. If you like to do a little gardening when the weather is nice, a few pots or raised beds with winter flowers like pansies will make your garden a year-round haven.




· Won't be easily damaged by kids or pets – Artificial grass, especially UdineGrass, will not be easily damaged, stained or discolored by pets.




· Fire resistance rating ­– UdineGrass is fire resistant so it won't catch fire easily if the worst happens.




· Has a warranty – UdineGrass comes with a warranty of up to 10 years, which is definitely not a guarantee for live lawns!




· Won't aggravate hay fever – If you have a little bit of hay fever, chances are you've covered your face or held your breath while walking or driving past someone mowing the lawn in spring or summer. While the smell of cut grass may be pleasant to some, for those of us with hay fever, it smells like nuisance! Installing artificial grass ensures that you don't have to deal with grass pollen from your own garden.




· You don't need to pay for maintenance – Many of our UdineGrass clients love to enjoy the good life, which means they like to go on vacation several times a year. If you also like to leave the house from time to time, then you don't have to worry about whether to pay someone to maintain your lawn while you're away, or come home and find that you have a small lawn that's in the jungle.




· Softness – Feeling the softness of well-maintained grass under your feet is one of life's little joys, but the truth is, unless you take off your sandals while walking across a lawn maintained by a top National Trust gardener or winner of a "Best Lawn" award, you Feel strange stones or spikes under your feet. With artificial grass, you get carpet-like softness immediately after installation.




· Weed resistant or even weed-free – Herbicides are often toxic and not friendly to the environment, pets, or children, so it's best to avoid them. Artificial grass is weed-resistant, and when combined with a weed mulch, you may be able to fight off all but the toughest weeds.




· Very easy to maintain – If you don't have pets, you probably won't need to do any maintenance on your artificial turf. However, if you have pets, or if you do gardening in pots or beds nearby, you may find yourself spilling dirt on the grass. In any case, maintaining your grass is as simple as washing it with a hose or a bucket or two of water.




· It's possible to install alone – If it's convenient for you, UdineGrass can be installed without a professional installer. We usually advise our customers to contact one of our trusted installation partners, but if you are confident you can install it yourself.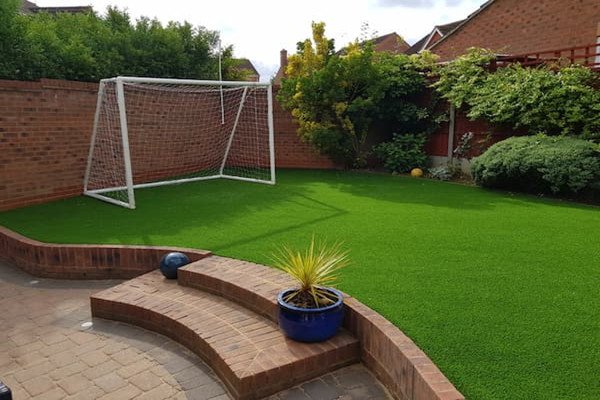 What are the Benefits of Decking?
· It's a great place to entertain – If your house foundation is significantly higher than your garden, a deck can prove to be an ideal entertaining space, especially if you use it to take advantage of the natural light. A patio off the back door can help expand your living space when the weather is nice, while a patio at the end of the garden can help encourage people to make the most of your garden's full size and give you a south-facing area in your garden. north.




· Can increase home value – Many people believe that a quality deck can help increase the value of your home, and of course this does vary by deck, market, and even time of year. Don't forget that a recently installed deck may increase the value of your home, but a deck that is 15 years old and poorly maintained can pull it down.




· Ideal for making the most of your view – If you're lucky enough to have an unobstructed vista at the back of your home, a patio is a great way to help you make the most of it, especially if your garden is down and you can't see it from the ground.




· There are new materials available – Classic wood decks will never go out of style, but they do degrade over time. Composite decks, or decks made from recycled plastic, will last longer, and many have convincing finishes.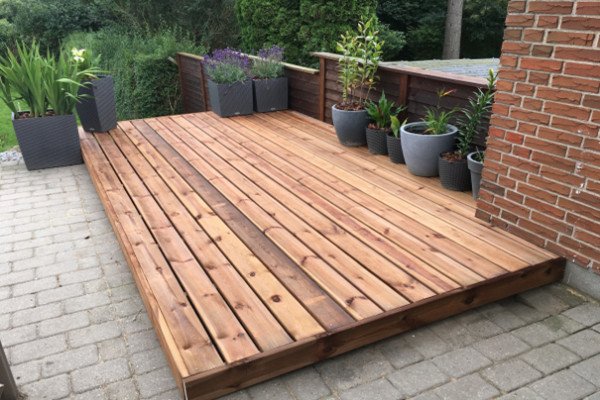 What are the Cons of Artificial Grass?
· You get what you pay for – As we mentioned at the beginning of the artificial grass benefits section, you really do get what you pay for. That means if you've tried buying artificial grass on a budget and bought cheap grass, you'll know it. It might have a shiny plastic exterior, feel sharp underfoot, or begin to break down after a year or two of use.




· If it does disintegrate, it will make a mess – From our point above, if artificial grass does start to fall apart, it's going to be a mess. This happens sooner or later with cheap artificial grass that won't last year after year outdoors. With premium artificial grass, this may not happen for decades, but like everything, it will eventually start to break down.




· Professional installation can be expensive – Depending on how large an area you plan to cover, professional installation can feel like an expensive and unnecessary expense. However, if someone installs artificial turf day in and day out and installs your lawn, the investment is well worth it.




·Will heat up more easily than live grass – It's not a big deal here in the UK, but we usually get 2-4 weeks a year in the warmer 20s to 30s during the warmer months. While real grass usually stays cool, artificial grass can get hot. Luckily, the UdineGrass has Feelgood technology that helps it stay 12 degrees cooler than during the day, so it has to be pretty hot (probably so hot that you don't want to sit outside) to prove a problem.




·It will "look" artificial in the cold months – When everything starts dying here in the UK, everything turns brown. This means your beautiful, vibrant lawn will look artificial, simply because everything around it is dying. It's certainly not a big deal, but if you're hoping to fool your green-fingered neighbors, they'll probably find out in January that it's artificial.




· It will require cleaning if your pets use it as a bathroom – If your pets use your lawn as a bathroom, you will need to give it a wash down from time to time, especially during the summer. While the winter will probably keep it fairly clean from the frequent deluges, dry summers can cause odors to stick around if you don't give everything a wash down from time to time.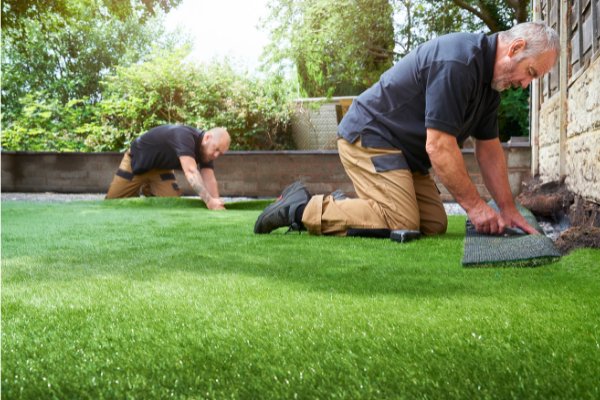 What are the Cons of Decking?
· Expensive to install – Most people can't install a quality deck themselves, which means you'll have to pay to have it installed. While they are usually well worth the investment, they are significantly more expensive to install than artificial turf.




· You get what you pay for – If you cut corners, installed too little, or bought cheap lumber, you'll know when you're done or in a few years.




· It can catch on fire – If you dream of grilling on the deck, proceed with caution. An unnoticed spark can cause a large charred hole in your deck.




· They attract pests – Pests, especially mice, love decks. They provide them with a sheltered, safe nesting space. You can certainly take steps to avoid pests, but it's something to keep in mind.




· Timber decks require annual maintenance – Most decorating professionals recommend that you repaint or stain your wood deck annually to keep it in good shape, which is usually not a welcome chore.




· They can be slippery in winter – Decks can be very slippery on cold days for both humans and pets.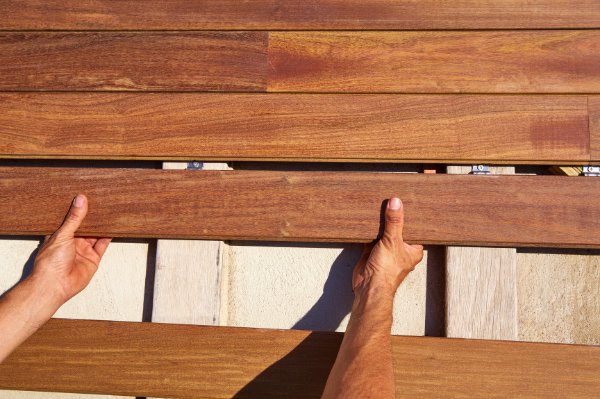 Is artificial grass or decking right for you?
Both are great options, though of course, artificial grass will always be our preference. When you're trying to come to a decision, as yourself the following questions:
Do I want to add elevation?

Do I want a planted garden look?

Do I want to have space for children and/or pets to play?

How much maintenance do I want to do?

What's my budget?

Will I want to entertain on it when it's wet?
Ultimately, which you choose is up to your needs and personal preference. If you want to entertain your adult friends and make the most of a spectacular view, a deck may be the right way to go. However, if you want to give pets or children space to run and play, artificial grass will be best.